By Scott Achelpohl
Deputy Editor, Seapower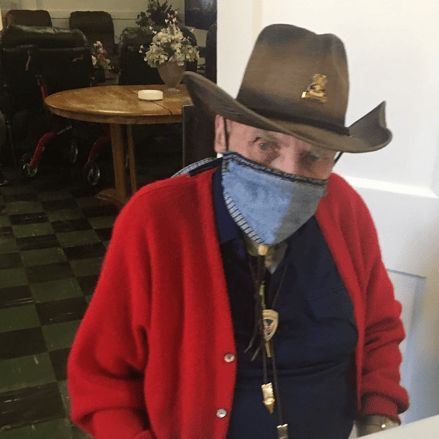 A Heather Grove Veterans Home resident wears a protective mask made by Denver Council volunteers and donated by the council.
In April, the Denver Council joined countless people and organizations nationwide that have volunteered to provide homemade personal protective equipment, in this case cloth face masks, during the COVID-19 pandemic.

People in retirement homes have been among the most vulnerable during the pandemic.

In early April, Rocky Mountain Regional President Steve Kelly took a call from an adopted organization, the Heather Grove Veterans Home, which was requesting cloth face masks for its 50 residents.

Kelly reached out to the Denver Council and several council members, notably Florence Mackin and Jane Zurliene, whose circle of family and friends had skills in sewing and quilting, said Dan Puleio, the council's executive vice president.

The council members immediately volunteered to make and ship what eventually totaled more than 70 washable cloth face masks. Within a week, the masks were delivered to the doorstep of Denver-based Heather Grove Veterans Home.

The effort saved the veterans home more than $500 in nonbudgeted money for masks, which would have had to come from the home's food budget had the council volunteers not stepped forward to help.