By Seapower staff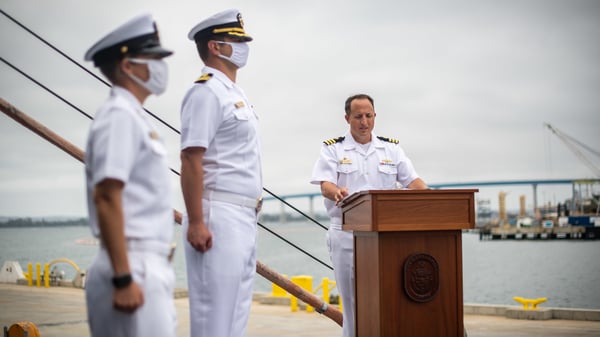 Cmdr. R.J. Zamberlan, the commanding officer of the Navy's newest littoral combat ship, USS Kansas City (LCS 22),
reads his orders during the ship's commissioning ceremony. U.S. NAVY / Mass Communication Specialist 3rd Class Kevin C. Leitner
The U.S. Navy commissioned the Littoral Combat Ship USS Kansas City in June at its new homeport of San Diego, the 11th LCS to be homeported there.

Due to COVID-19 restrictions, Kansas City was commissioned without the usual fanfare, with the Navy releasing an official statement about the event. The Greater Kansas City Council had spent a year fundraising and "friend raising" to create an extensive list of improved quality of life gifts for the crew, as well as establishing a scholarship for them.

The Navy is considering a future opportunity to commemorate the commissioning with the ship's sponsor, Tracy Davidson, crew and commissioning committee.

"I am privileged to be a part of this ship honoring Kansas City and look forward to remaining connected to USS Kansas City as her legacy grows, wherever she may sail," Davidson said.

Commanding Officer Cmdr. R.J. Zamberlan, said the ship is ready and "this crew has exceeded expectations in unprecedented times, and I could not be prouder to be their captain."

LCS 22 is the second ship in Navy history to be named after Kansas City.