Thursday, Oct. 22, 2020
By Luke Lorenz
Manager of Government Affairs
Navy League of the United States
This is part of an ongoing series, where we look at the lives and legacies of U.S. sea service men and women.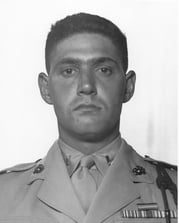 The sense of duty, courage and sacrifice instilled in young Americans through the JROTC program cannot be overstated. In fact, there is perhaps no better example of the selfless hero produced by such institutions than Baldomero Lopez. A native of Tampa, Florida, this Marine would not only receive a posthumous Medal of Honor, but his name would grace ships and school dorms far from his home.
As a teenager, Lopez served as Regional Commander of Hillsborough High School's Junior Reserve Training Officer's Training Corps program in Tampa. He was also an accomplished basketball player. In the midst of World War II, he was selected to attend the U.S. Naval Academy and graduated as a second lieutenant. After a tour in China (after the Japanese surrender but before the Communist takeover) he returned to the United States only to be called upon for the American war effort on the Korean Peninsula.
Serving as a platoon commander in the 1st Marine Division, Lopez led his men in the amphibious landing at Inchon. His heroism would be captured in an iconic photo taken as he guided his men over a seawall and into enemy territory. Shortly after the photo was taken, Lopez would be badly wounded by enemy machine gun fire taken to his chest and shoulder. Despite these injuries, he managed to crawl on top of an activated grenade, shielding his fellow Marines from the blast. For his courage and heroism, Lopez was posthumously awarded the Medal of Honor.