Wednesday, May 22, 2020
By Luke Lorenz
Manager of Government Affairs
Navy League of the United States
This is part of an ongoing series, where we look at the lives and legacies of U.S. sea service men and women.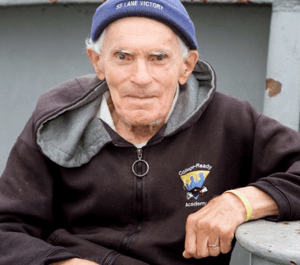 "Don't call me a hero. All my heroes are asleep in the deep."
These are the words of Issie Deitsch. Defined by a clear and unshakable sense of loyalty, duty and selfless service, Issie's thoughts are rarely of himself. His fellow travelers, at sea or on the rails, are constant companions for this devoted man who can be found volunteering even today aboard the SS Lane Victory.

His brothers joined the war effort after Pearl Harbor, so of course Issie felt his duty was to accompany them. He was only 15 years old, and while many Mariners joined up at this age, Issie Deitsch had two unique obstacles standing in his way: a mother who was not afraid to stand against an entire recruiting station in order to keep her youngest son at home and a nosy neighbor who seemed unnaturally aware of every move that Issie made. These forces came together twice to thwart Issie's efforts to join the war effort.

His first stop was the U.S. Navy. He successfully enlisted for perhaps an hour or two before his mother (alerted by the neighbor) stormed into the recruiting station and refused to leave until Issie was released from duty. Being that he was underage, the Navy was forced to oblige. It is worth pointing out that while the U.S. Navy could defeat the German and Japanese war machines, they were unable to stand up to Issie Deitsch's mother.

His next stop was the Merchant Marine where the same situation played out. As Issie would say about his nosy neighbor, "They say loose lips sink ships. Well, loose lips sank me." It seemed as though the universe had conspired against this young man, but the universe didn't know Issie Deitsch. The words "give up" have never been part of his vocabulary. He would find his opportunity on his third try, joining the Seafarers Union and sailing off before anyone could stop him. This journey would result in the most harrowing experience of his young life.

Finally feeling that he was doing his part for his country, young Issie Deitsch sailed off to the North Atlantic aboard the SS Weatherspoon. They were transporting valuable supplies. Tanks, guns, ammunition, planes and food covered the deck and filled the storage compartments. Above the waves an escort of British ships protected the convoy, but below the waves a German escort followed them as well. The British ordered the convoy to split up. "I will never see home again," thought Issie. Two torpedoes ripped through the water and into the Weatherspoon. The captain gave the order to abandon ship, and the crew dropped into the icy water. A British ship picked them up. One of the officers looked at Issie and told him he was too young and that he should be at home where he belonged. In typical fashion, when Issie did return home he got on the very next ship to bring more supplies to the allied forces.

The same scenario played out aboard the SS Tivites, which was torpedoed in the Mediterranean Sea in October of 1943. Again, Issie and his crewmates were picked up by British forces and eventually made their way to Tunis. When asked why these convoy missions were so important to the war effort Issie responds, "What good is a gun if you haven't got a bullet?" He understood the importance of what the Merchant Marine was doing and he repeatedly risked his life in support of that mission.

Back home, decades later, Issie often speaks of his shipmates as though they were still with him, equating his needs to their needs. When told that he could get medical help through the VA he responds, "My shipmates don't get those benefits, so I don't want them either!" Aside from an earlier dream of becoming a locomotive engineer, Issie mentions little about himself or his ambitions. His thoughts, his loyalty and his devotion are to those men in the deep who no doubt remember their friend Issie as fondly as he remembers them.