Friday, July 10, 2020
By Luke Lorenz
Manager of Government Affairs
Navy League of the United States
This is part of an ongoing series, where we look at the lives and legacies of U.S. sea service men and women.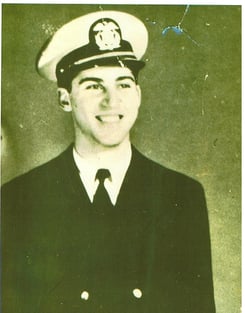 A man's life is never an easy thing to put into words, but Jack Laub makes it especially difficult. From varsity athlete, to officer and ship doctor in the Merchant Marine, to NBA draft pick, to transformative force in the pharmaceutical industry, to hall of fame inductee, Jack has led a life that cannot be adequately detailed in one article. In fact, we've already skipped over his time in the Coast Guard and his years coaching basketball. But perhaps we can condense this voluminous legacy by focusing on the one constant that has defined the many chapters of Jack's life — his dedication to helping others.
Crediting both basketball and his time in the Merchant Marine as the formative experiences that would shape his character for decades to come, Jack took quickly to the teamwork and camaraderie required in both endeavors. Having signed up voluntarily with the Merchant Marine, he emerged from training at Sheepshead Bay, New York, as an officer. In this capacity he was not only responsible for the paychecks of all the men aboard, he was also the ship's only medical staff. His shipmates could not have asked for a better steward of their personal and financial safety. Hardworking and reliable, this 19-year-old officer was accepted and respected by a crew averaging twice his age.
Jack sailed on six different ships for six different voyages across the Atlantic. The cargo varied widely. On one trip they transported oil from Venezuela to the allied troops in Europe. Another time they brought enemy prisoners of war from their point of capture back to recently occupied German land. Whatever the mission, Jack accounted for every penny that his men earned and dispensed funds when they arrived in port. He was also in charge of dispensing candy and cigarettes, which made him a very important young man.
In addition to shaping his character, his time in the Merchant Marine would have two lasting impacts on his life. The first was his participation in the liberation of France, for which he would receive the honor of "Chevalier" in the French Legion of Honor (a distinction which traces its origins all the way back to Napoleon Bonaparte). The second would be the emergence of his indomitable spirit when tested under pressure. There was one incident which depicted this side of Jack vividly.
In the midst of a brutal storm in the Northern Atlantic, one of his crewmates fell from a great height to the unforgiving deck below. Jack charged out into the storm to retrieve the man and provide the necessary medical treatments, which included setting his broken leg with a splint (something young Jack had never done before). His quick-thinking and fearless action kept his shipmate safe until they arrived in port. The less dramatic treatments that he provided to other shipmates were no less vital to the health and welfare of the crew.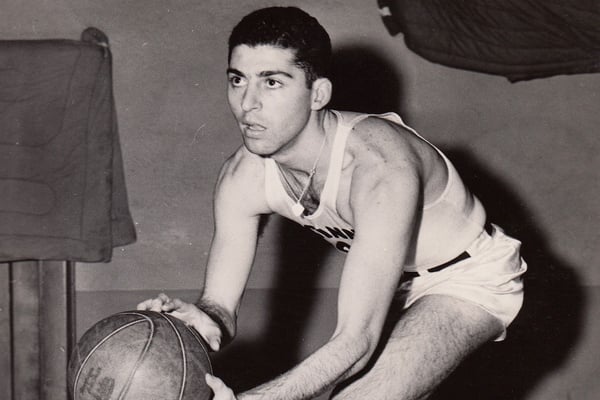 Jack's Mariner career, as well as his time serving as a lieutenant in the Coast Guard, would be sandwiched between varsity athletics at two separate universities. He had started at City College of New York before joining the Merchant Marine, and upon completing his time there he received a basketball scholarship to continue his sports career at the University of Cincinnati. This made him the only NCAA player in history to have played six years of varsity ball at two separate universities. In 1950, he was drafted into a new sports league that you might know as the NBA. Starting with the Baltimore Bullets, he would go on to play for the Minneapolis Lakers (long before they moved to sunny Los Angeles) and the Scranton Miners.
Despite his accomplishments on the court, my conversation with Mr. Laub led me to believe that he was most proud of his brief but impressive coaching career. I found this period of his life to be remarkable for two reasons. First, he was able to produce tremendous results in a very short period of time, like when he helped to propel the Bearcats to their first National Invitation Tournament during his initial year as assistant coach. Second, the several years that he dedicated to coaching basketball both at the University of Cincinnati and at the Kings Point Merchant Marine Academy were not part of his chosen career path but rather were selfless and voluntary contributions to the institutions that he cared about. In both instances, Jack had already decided that he would be moving on to a career in medicine but agreed to dedicate a year of his life to coaching simply as a way of giving back.
There is so much more to cover in the long and storied career of Jack Laub, but we will just discuss one additional aspect here today, and that is his time working in the field of medicine. Most people would never know it, but Laub is responsible for a transformation in the distribution and pricing of the medicines that we rely on. He spent years developing a plan and convincing various stakeholders to produce, stock and distribute a wide variety of generic drugs in a manner that would save the United States healthcare system (and the individuals within it, like you and me) hundreds of billions of dollars. For this tremendous contribution to our country, Jack Laub was awarded the Distinguished Alumni Award from the University of Cincinnati.
Jack would go on to fund a scholarship at the Florida Atlantic University for medical students pursuing breast cancer research, an issue close to his heart as a result of loved ones that had been lost. He would be inducted into the National Jewish Sports Hall of Fame and Museum, the James P. Kelly University of Cincinnati Athletics Hall of Fame and the Brooklyn Jewish Hall of Fame. He was also inducted into the City College of New York Basketball Hall of Fame.