Thursday, July 2, 2020
By Luke Lorenz
Manager of Government Affairs
Navy League of the United States
This is part of an ongoing series, where we look at the lives and legacies of U.S. sea service men and women.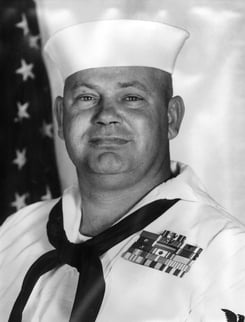 The most decorated enlisted Sailor in the U.S. Navy's long and eventful history, James Elliott "Willy" Williams earned his medals several times over. Signing up amid the backdrop of the Korean War, Willy would serve a truly distinguished 20-year career before leaving the Navy for the U.S. Marshals service. During this career, he would exemplify the greatest attributes of an American warrior.

It would be along the serpentine rivers of Vietnam that Willy would engage in the incredible acts of heroism that would make him an American hero and a most fearsome adversary to enemy forces. Assigned to River Squadron 5 in South Vietnam, he would conduct two operations within as many months, which would earn him multiple Bronze Stars as well as a Silver Star and Purple Heart. In both instances, Willy's Patrol Boat came under attack from Viet Cong sampans. Moving with great agility, he closed in on the sampans and captured them. Willy's aggressive tactics overwhelmed the enemy forces even when they outnumbered Willy and his crew. This successful strategy would result in a near-impossible victory only a few months later.

In October of 1966, Willy was in command of a two-boat patrol along the Mekong River. Coming under fire from two sampans, he utilized his instincts for offensive maneuvers and quickly eliminated one sampan while giving chase to the second. This pursuit would bring his patrol directly into a Viet Cong staging area with numerous enemy vessels and machine gun positions along the riverbanks. Having called for air support Willy sprang into action, fighting through immense enemy forces. His patrol boats and the accompanying helicopter support would destroy some 65 Viet Cong boats while inflicting overwhelming damage against enemy troops.

Willy would go on to rescue a Sailor from the sinking Jamaica Bay dredge only a few months later. For these actions, James Elliott Williams would receive the hallowed "Big Three" valor awards to include the Medal of Honor, Navy Cross and Silver Star. It would be hard to find anyone more deserving of these honors.