Friday, Aug. 14, 2020
By Luke Lorenz
Manager of Government Affairs
Navy League of the United States
This is part of an ongoing series, where we look at the lives and legacies of U.S. sea service men and women.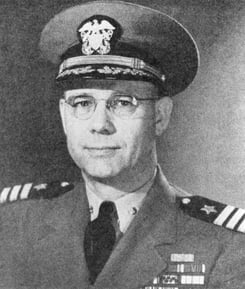 Having undergone a minor (yet no less stressful) medical procedure earlier this week, this author was reminded of the indescribably critical nature of medical professionals in the civilian and military realms. Their service, while easily overlooked during more tranquil periods, becomes the defining factor in stabilizing society during pandemics and keeping our troops in the fight during wartime. In the spirit of honoring these heroes, we would like to highlight the courage and dedication of Medal of Honor recipient Cmdr. John Henry Balch.

Balch was born in Kansas just before the turn of the century. As a result, he, along with the rest of his generation, would endure two world wars. The young man would enter the first on May 26, 1917, assigned to the 3rd Battalion, 6th Marine Regiment. Perhaps he had no idea at the time that he possessed the courage and fortitude which would lead him to receive our nation's most prestigious military recognition, but this inner strength would be revealed under heavy fire.

The Battle of Vierzy (part of the larger German Spring Offensive of 1918) was in full fury when Balch entered the fray. The Germans had turned their attention to the western front after Russia's withdrawal from the war, and they were now eager to punch through allied lines before American forces could become a decisive factor on the battlefield. Of course, the Germans weren't aware that a division of Marines is all it takes to assert U.S. military dominance.

On July 19, 1918, Pharmacists Mate 1st Class John Balch fearlessly traversed the battlefield under heavy machine gun fire in order to set up a forward medical dressing station and to carry wounded Marines out of the combat zone. The fighting was intense and ebbed back and forth between American and German advances before the allies decisively cleared the objective of enemy troops. This would mark the turning point of the war, as the Germans were unable to engage in any significant offensive operations after this loss.

Balch's bravery was exceptional, but his dedication to his fellow warfighters would define him as a true American hero. For his gallantry on the battlefield, he would receive the Medal of Honor in September 1919. His story might be inspiring to us, but he is just one of many heroes in the archives of our medical practitioners. Thank you to all of our combat medics and civilian medical professionals for all that you do!