Friday, July 17, 2020
By Luke Lorenz
Manager of Government Affairs
Navy League of the United States
This is part of an ongoing series, where we look at the lives and legacies of U.S. sea service men and women.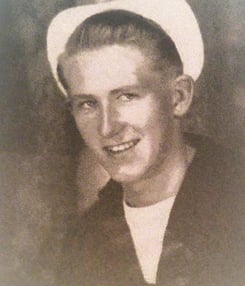 Perhaps growing up without a father was the impetus for John Keane Sr.'s lifelong dedication to family. If so, then at least something good came of such a tough upbringing. Raised during the Great Depression and shipping off with the Merchant Marine at the age of 16, John's early life was full of challenges and peril, but these things only brought him closer to his mother and brothers. The difficulties they faced made them stronger as individuals and as a unit.

Everyone in the family worked, including young John who sold so many newspapers that he was rewarded with a trip to the 1939 World's Fair. Activity was buzzing all around them. The factories were churning out supplies and equipment for the war. John remembered a certain unity of purpose which could be felt all around him. From the men signing up to fight, to the women filing into the factories, everyone seemed focused and eager to do their part for their country. This would include John's older brother Joe, who joined up with the 82nd Airborne and would stay in the Army for 18 years.

John was ready to enlist but was turned away by the Navy for being too young. That's when he learned that the Merchant Marine would take you at 16 years old, off he went to train at Sheepshead Bay in New York. Things moved quickly from there. John was sent to Boston, but before he could unpack his bag he was taken out to a Liberty ship off the harbor. Climbing up a rope ladder onto the deck, he barely had time to set down his gear before an air siren sounded and an attack drill commenced. John ran to the 20 mm gun to assist as a feeder for the ammunition.

The Liberty ship that John crewed was one in a 60-vessel convoy that spanned over 5 miles. There were Navy destroyers escorting them, dropping depth charges to ward off German U-boats. They arrived in Cherbourg, France, to deliver vehicles and K-rations to the troops moving across Northern Europe. While here, John would see his first enemy prisoners of war. One of them was ordered to help John secure a rope on the dockside of the ship. He still remembers how the enemy soldier was just a young boy like himself. That experience would stay with him the rest of his life.

The world was changing around him. The Russians had pushed into Germany and taken most of Eastern Europe. U.S. forces had dropped the bomb on Hiroshima and Nagasaki, bringing the Japanese to surrender. John stayed in the shipping industry, and his journeys brought him face-to-face with the post-WW II global community. He visited a newly formed nation called Israel. He saw Eastern Europe descend into authoritarianism. He saw North Korea fall to communism. He visited Africa as its nations were decoupling from European colonialism. His trade was simply to deliver goods, but through this endeavor John witnessed the birth of a world that would form the foundation of the Cold War era.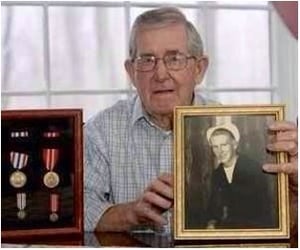 He stayed in the Merchant Marine until 1952, when he married his wife and started his own family. He has seven children, 13 grandchildren and 13 great-grandchildren. He stays in touch with them regularly and clearly cares deeply about them.