Friday, May 29, 2020
By Luke Lorenz
Manager of Government Affairs
Navy League of the United States
This is part of an ongoing series, where we look at the lives and legacies of U.S. sea service men and women.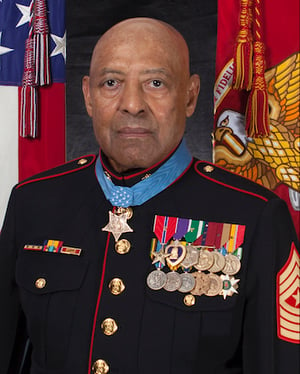 As Memorial Day weekend rapidly fades behind us, quickly forgotten amid the daily rhythm of work and family, let's take one more moment to reflect on the generations of heroes whose stories call out to us from long-abandoned battlefields removed from memory by distance and time. Among these heroes one finds a distinct subset of near-mythical men and women whose legendary actions amid the chaos of combat instill national pride and inspire the next generation of American warriors. One such storied service member is John L. Canley, former Marine and recipient of the Medal of Honor.

In February of 1968, American forces were pinned down in Hue City, South Vietnam. Enemy units occupied buildings within the city, outposts around the city and ambush positions along the access roads. They seemed to have commanded dominance of the terrain. Then came Alpha Company of the 1st Battalion, 1st Marines, 1st Marine Division, with a gunnery sergeant named John L. Canley. This young man would not only turn the tide of the battle, he would astound both his fellow Marines and the enemy with his death-defying heroics on the battlefield.

En route to Hue City, Alpha Company came under repeated attack. Canley was wounded early in these engagements, but his wounds would have seemingly no impact on his actions over the coming days. He rushed across the bullet-torn roadway to retrieve wounded Marines and carry them to safety. When his commanding officer was badly wounded, Canley took command and led the unit into Hue City.

Upon arriving in the city, Canley led his platoon on a flanking mission, which successfully eliminated several enemy machine gun positions. In the coming days he would lead attacks against fortified enemy positions across the city while continuing to brave enemy fire in order to rescue wounded Marines. Taking command of one building, Canley drew enemy fire by moving himself out into the open ,allowing his unit to maneuver and then dropping a satchel charge onto the enemy position.

But the most unbelievable aspect of the story was yet to come. In a battle for control of the city hospital, Canley twice scaled a wall in full view of enemy soldiers and survived the ordeal. While this author cannot say what the enemy soldiers were thinking as they watched Canley in action, it is more than possible that a few of them left their weapons on the ground and refused to ever fight against the seemingly superhuman American Marine Corps again.

For these conspicuous acts of bravery, Gunnery Sgt. John L. Canley was awarded the Navy Cross and later the Medal of Honor, which was presented to him by President Donald Trump on Oct. 17, 2018. Every American owes a debt of gratitude to heroes like John L. Canley. As the Memorial Day barbecues and beaches fade back into the daily routine, let's take a moment to remember those truly extraordinary Americans who have provided us with such total safety and security that we have the luxury of forgetting about them.