Friday, Aug. 21, 2020
By Luke Lorenz
Manager of Government Affairs
Navy League of the United States
This is part of an ongoing series, where we look at the lives and legacies of U.S. sea service men and women.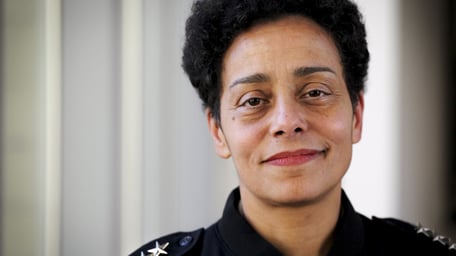 It's official. Election season is in full swing. And while millions will be watching the conventions for rising stars and familiar names in the political realm, the Navy League continues to focus its attention on those proven leaders who have transformed the sea services and safeguarded our nation — leaders like Michelle Howard, the first female four-star admiral in the history of the U.S. Navy.

Opportunities for women in the military were still in the nascent stages when a young Howard began to contemplate a career in the Navy. Her father had been a master sergeant in the U.S. Air Force, so she had grown up in the military community and felt at home there. She applied to the U.S. Naval Academy in Annapolis and was accepted along with six other African-American women in a class of 1,363 students.

Throughout her career she would be recognized regularly for her impressive abilities. While serving on the USS Lexington, still fresh from the academy, she received the Secretary of the Navy/Navy League Captain Winifred Collins Award, which is given to a female for her outstanding leadership. She would serve in the first Gulf War aboard the USS Mount Hood before becoming 1st lieutenant aboard the USS Flint. Continuing to advance through the ranks, she would support NATO efforts in the Balkans during the Kosovo conflict while serving as executive officer aboard the USS Tortuga.

When Howard assumed command of the USS Rushmore, she became the first African American woman to command a ship in the history of the U.S. Navy. But this groundbreaking American hero would not stop there. In 2014, she became the first female four-star admiral in the Navy's history. It is hard to imagine anyone more deserving of the honor.

And so, as we spend the coming weeks and months focused on our civilian leadership let us not lose sight of those who earned every medal, ribbon and award with their sweat, blood and tears. Heroes like Michelle Howard did not achieve their position through campaigning. They fought, and they worked, and they made their nation proud every step of the way. Whenever you grow tired of the campaigns this fall, just look to the sea services for all the inspiration you need!