Thursday, Aug. 27, 2020
By Luke Lorenz
Manager of Government Affairs
Navy League of the United States
This is part of an ongoing series, where we look at the lives and legacies of U.S. sea service men and women.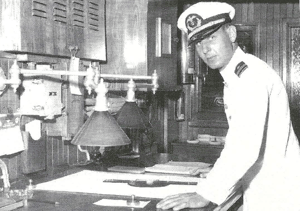 Growing up in the small steel town of Sharon, Pennsylvania, Neil Jones might not have expected to travel the world, collaborate on cutting-edge new military technologies and even write a book about his experiences ("Random Courses and Scattered Squalls"). But his time in the Merchant Marine and the Navy would chart a life's journey that is worthy of a book, and one that is well worth reading.

By the age of 16, Neil was looking to do something extraordinary. Despite a bustling steel industry, teenagers in Sharon were typically stuck with unappealing "grunt" jobs. Neil wanted something different. He went up to the Great Lakes to get a summer job working on a steam ship. He didn't have seaman's papers or training, but he had the spirit of a sailor. In no time, he was climbing a ladder onto his first ship and shoveling coal to heat the boilers.

For a young man still in high school, shoveling coal wasn't the worst job out there. But after he graduated, Neil wanted something more. He went back to the Great Lakes, but an older seaman told him to go to New York City, to the Army shipping hall in Brooklyn, and get a job out on the ocean. Neil went to New York and stayed on a cot at the YMCA before being sent aboard the Edmund B. Alexander. This ship had been a German passenger boat until World War I when America had confiscated it and used it to transport troops. Confiscating German ships had been a necessity due to America's inadequate fleet at the time. Neil would remember this lesson for the rest of his life — don't wait until you need ships to build them.

His first voyage took him to Bremerhaven, Germany, carrying perhaps the most precious cargo of all. With the war coming to a close and the need for Americans to remain stationed in Germany to discourage Soviet advance, soldier families were being transported from the U.S. to Germany to accompany their husbands. These women and children were transported aboard the Edmund B. Alexander to reunite with their war-weary husbands.

After this voyage Neil went on several more, including a transport of rail cars to Havana, Cuba. As Neil describes it, "this was back when Havana was fun" and where you could get a cheap "rum and coke with more rum than coke." He enjoyed his trip and found the Cuban locals to be very pleasant and friendly.

He attended King's Point Academy and graduated, sailing off on a tanker for a few months before Uncle Sam sent him a letter. The Army was drafting him for the Korean War. With his sailing background he was able to transition to the Navy and he was even selected to test a brand new mine sweeping system in Annapolis, Maryland. He became an operations officer and tested the system before the Navy could commit to making more of them.

After he was discharged, he went to the University of Colorado and began working as a civil engineer, overseeing the construction of dams and lakes. But his Mariner license would soon be expiring unless he went back to sea as a mate. So, he returned to New York and sailed off on a passenger ship headed for Buenos Aires. This would be his last voyage.

Back in Colorado he was recruited to work on a brand new intercontinental ballistic missile weapon system. It was a stage separation missile, meaning that after the booster stage the rocket would separate and then the primary stage would carry the warhead farther to its target. No one had ever done this before. Missiles and rockets were brand new then. The development was being done in Denver, and Neil was recruited to implement a pioneering new preventive maintenance plan for the test equipment.

Neil still recounts his Merchant Marine days fondly and laments the fact that more Americans are not aware of the vital work of the Merchant Marine and the U.S.-flag fleet. "Our Merchant Marine doesn't have any ships. That's an exaggeration but not much of an exaggeration," Neil says. "In World War I, we had no way to get our troops to Europe." Let's hope that history doesn't repeat itself and that Congress ensures adequate funding for our U.S.-flag fleet, tankers and Merchant Marine.