Wednesday, May 6, 2020
By Luke Lorenz
Manager of Government Affairs
Navy League of the United States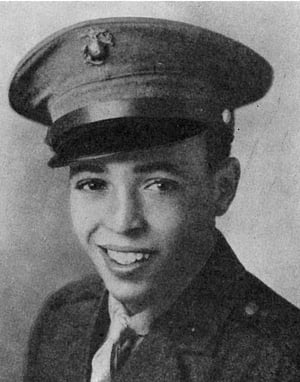 This is part of an ongoing series, where we look at the lives and legacies of U.S. sea service men and women.
This week, the Navy League would like to highlight the service and sacrifice of Marine Corps Pfc. Harold Gonsalves. In a branch of the armed services renowned for courage and gallantry, Gonsalves warrants special attention for his actions in the Battle of Okinawa which, sadly, cost him his life.

Born in Alameda, California, in 1926, Harold was a bit of a local phenomenon. He played football and baseball, as well as participated on the high school track and swimming teams. He even sang tenor in the glee club. With these talents, young Gonsalves could have found himself on the road to stardom. Instead, he enlisted in the Marine Corps in 1943.

Gonsalves took part in several successful assaults across the Marshall Islands, but it was Okinawa that American forces needed for the anticipated invasion of the Japanese mainland. Harold and his comrades in the 4th Battalion, 15th Marine Regiment, prepared to take the island and win the war.

Twenty-two-year-old Harold Gonsalves joined a small forward observation team, braving bullets and mortars to help guide American artillery on enemy positions. As the team moved forward from their observation mission to fighting on the front lines, a grenade landed at their feet. Without hesitation, Gonsalves threw himself on the grenade, absorbing the full explosion and saving his fellow Marines from harm. For his selfless act of heroism, Gonsalves was posthumously awarded the Medal of Honor.