Thursday, Sept. 24, 2020
By Luke Lorenz
Manager of Government Affairs
Navy League of the United States
This is part of an ongoing series, where we look at the lives and legacies of U.S. sea service men and women.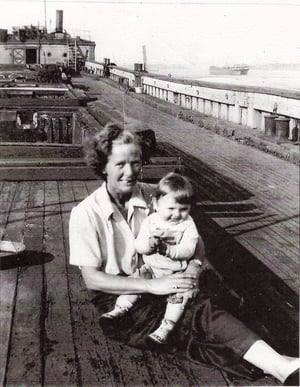 While our weekly mariner stories have primarily focused on men who served during World War II, it is wrong and inaccurate to assume that women were not also out on the water defending the homeland. Indeed, women have served in every war since the American Revolution, and World War II was no exception. One such brave and seafaring woman was Sadie Horton, who was not recognized as a veteran until 2017 when her family received her official military DD 214 certificate of discharge as a veteran of the U.S. Merchant Marine.
Like most women at the time, Sadie had initially answered the call to serve her nation by working in the factories as the men went off to war. She was working as a riveter at the Consolidated Aircraft Facility in Elizabeth City, North Carolina, when she learned that her son William had been killed in action. His ship had been sunk by a German U-Boat. Sadie left her job and went to work alongside her husband as a barge seaman.
In those days women were not issued Merchant Mariner credentials, but that didn't stop Sadie. Throughout the war she and her husband would make over 90 trips along the East Coast, moving supplies through waters teeming with danger from German U-Boats. The peril of the coastwise barge seaman is often overlooked, but their actions (often without any Navy escort) kept the factories running and the war effort on track.
Thanks to the tireless efforts of her son Don, Sadie would eventually become the first recognized female veteran of the Merchant Marine during World War II. Her story reminds us that America's victories often require the sacrifice and bravery of heroes who go unsung. It is an honor to tell the story of Sadie Horton, another example of the proud history of the U.S. Merchant Marine!