By Seapower staff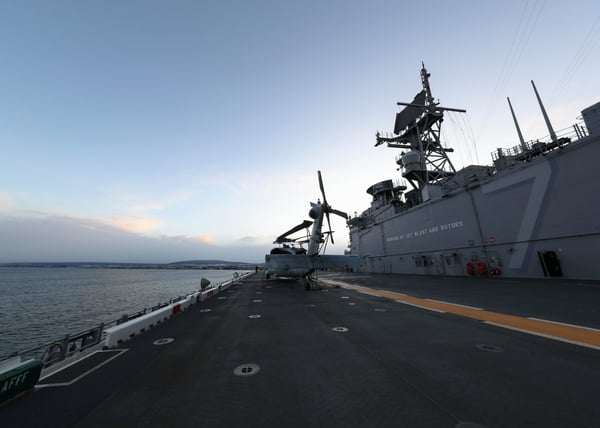 The amphibious assault ship USS Tripoli (LHA 7) anchors off the coast of Punta Arenas, Chile, Aug 29, 2020.
Tripoli was commissioned administratively July 15, 2020. U.S. NAVY / Mass Communications Specialist 1st Class Michael H. Lee
Like so many events affected by the COVID-19 pandemic, commissioning week festivities in Pensacola, Florida, for the USS Tripoli had to be canceled. But thanks in part to the leadership of the Pensacola Council, the milestone was far from unnoticed.
The Tripoli got underway from Ingalls Shipbuilding on the morning of July 24 after numerous delays toward its homeport of San Diego — but not before council members led an effort commemorate LHA-7's administrative commissioning with commemorative plaques and coins, which the ship's commander said were presented to the crew once the ship was underway.
The citizens of Pensacola came through, providing the funds required to give the 1,100-person crew traditional plankowner plaques and coins. Because of the unique and limited festivities of the administrative commissioning, the skipper reported that presentation of the plaques and the coins was the highlight of the day for the crew. Artist Jennifer Kensler, of Navy Federal Credit Union, designed both the plaques and the coins.
Despite the cancellation of commissioning week events, there was plenty of work involved in building a bond with the crew over the past two years and then producing and cataloging the personalized plaques and coins for the crew. The plaque effort was led by Jacque Gray. Commissioning committee and Navy League members provided the manpower to construct, label and catalog the plaques during a two-day effort at Sandy and Bubba's Milton Chevrolet in Milton, Florida. The plaques and coins were delivered to the ship on July 13, concluding over two years of effort.