By Scott Achelpohl
Deputy Editor, Seapower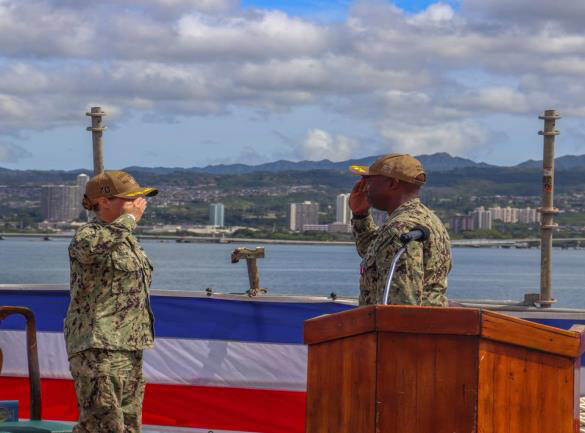 The Marin County Council on April 3 helped welcome the first female to command a U.S. Navy ship named after a woman.
In Pearl Harbor, Hawaii, Cmdr. Kathryn Dawley became the new commanding officer of the USS Hopper, relieving Cmdr. Holman Agard, who Marin County Council member and director Charles Coleman and his family hosted. They had been given a tour of the Hopper during a visit to Pearl Harbor in December 2018.
The Hopper is an Arleigh Burke-class guided missile destroyer named for the pioneering computer scientist Rear Adm. Grace Hopper and is only the second Navy warship to be named for a woman from the Navy's own ranks.
Dawley served as executive officer of the Hopper prior to becoming commanding officer of the destroyer. Due to the COVID-19 pandemic, no visitors were allowed at the change-of-command ceremony. Except Agard, his wife and Dawley, there were no other attendees.
Dawley said she regretted not being able to see her husband, who is commanding officer of the Los Angeles-class fast attack submarine USS Jefferson City, which also is homeported in Pearl Harbor but was deployed at the time.