The Navy League is proud to announce the Navy League 2020-2021 scholarship award winners! These students come from families of sea service veterans and excelled in both academic achievements and extracurricular activities before attending college.
We are able to award these scholarships thanks to the generous donations our foundation receives. All of our scholarships go toward the children or grandchildren of sea service members to help offset the cost of attending a university.
Navy League Foundation Scholarship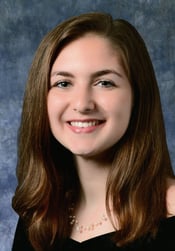 Jessica Georges is the daughter of a Navy veteran. She is a graduate of Paul V. Moore High School in Central Square, New York. Throughout high school, Jessica participated in field band, winter drumline, parade band, math team, drama club and peer tutoring. She was a National Merit Commended Scholar, an American Legion Auxiliary Empire Girls State Delegate, a member of the 2019 Conference All-State Wind Ensemble and the salutatorian of her class. In the fall, Jessica plans to attend Colby College and major in biology.
Albert Levinson Scholarship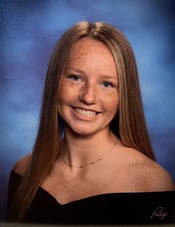 Jordan Estes' father is a captain in the Navy and commander of the Airwing (CAG) of CAG3 on the USS Eisenhower. He is currently deployed. All throughout high school, Jordan was involved in a number of clubs including the English, science, math, social studies and National Honor Societies. She participated in her class executive board, Best Buddies (a group for helping special needs children), girls varsity soccer all four years and in student body government. Within student body government, she was the chair of publicity, which was in charge of managing and advertising all school events. Jordan will be attending Baylor University in the fall with a focus in biology on the pre-med track. She is in the University Scholar program, a part of the Honors College that only accepts the top 2% of incoming freshmen.
Ann E. Clark Scholarship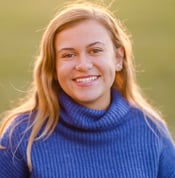 Daughter of a U.S. Coast Guard veteran, Carrie Spangler was the vice president of her National Honor Society chapter, president of the SADD Chapter, editor of the school newspaper and co-captain of her varsity tennis team at William Allen High School. She also participated in 4-H (having several leadership positions), Best Buddies, National German Honor Society, Scholastic Scrimmage, "Canaries" (cancer research fundraising), and EmPOWER Allen (civic engagement). Some of her achievements include having a 4.7 weighted GPA, ranking third in her class, and having earned a four on her AP U.S. History exam. She also earned the Lehigh County Outstanding 4-Her Award, representing her county at National 4-H Congress in Atlanta. She was also the 2019 Runner-Up Allentown, Pennsylvania, Fair Queen. Carrie will be attending Penn State University-University Park to major in agricultural science.
Gloria and J. Michael McGrath Scholarship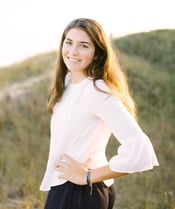 Abigail Soerens lives in Dillsburg, Pennsylvania. Her grandfather is a Navy veteran of World War II. While being homeschooled, Abigail competed for Northern York High School in swimming and track and field. She holds school and pool records, competed at the state level and is an Academic All-American in swimming. At her church, Abigail plays guitar for the youth group worship team. Over the summer she works as a camp counselor in the Adirondacks. This fall, Abigail will study to become a biology teacher and be on the swim team at Messiah University.
Jack and Eileen Anderson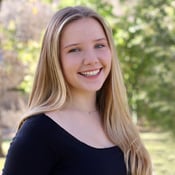 Chloe Cullen, daughter of a retired Navy commander, has a passion for music, community service and entrepreneurship. For 11 years, she sang as a soloist and with exclusive ensemble groups, including singing in 25 different languages. As a volunteer, she founded a summer music program for Boys and Girls Clubs in Sonoma and Napa counties, teaching ukulele, singing and drums for four years. She also founded an entrepreneurship club at her school, where for two years she led her classmates in weekly team exercises. Chloe is excited to take her passion for music, community service and entrepreneurship to the University of California, Berkeley this fall, and plans to complete her pre-med requirements and apply to Berkeley's Haas School of Business.
John G. Brokaw Scholarship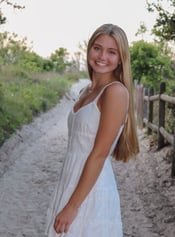 Brooke Sullivan is a graduate of the Math & Science Academy at Ocean Lakes High School Mathematics and Science Academy in Virginia Beach, Virginia. Her mother is a Navy commander serving with the Marine 4th Medical Battalion. A field hockey player who was awarded All-Region honors, a member of the National Honor Society and a volunteer for the Arthritis Foundation, Brooke hopes to pursue a career in sports medicine. She plans to attend the University of Virginia in the fall, where she will be majoring in kinesiology.
Rear Adm. William A. Sullivan, USN (Ret.) Scholarship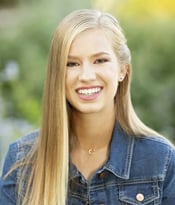 Madeline Taylor graduated in the top 3% of her high school class with a 4.4 GPA and was involved in marching band, winter guard, National Honor Society, Beta Club, Mu Alpha Theta math honor society, and in her church youth group and choir. She was a section leader in band from sophomore to senior year and was the youth choir president her senior year. Madeline was an honor graduate and received the President's Education Award, 21st Century Scholar Award, University Interscholastic League Scholar Award and AP Scholar Award with honors. She will be attending the University of Texas, Austin in the fall, and will be majoring in pre-med and exercise science. She intends to continue on to medical school and become a pediatric oncologist. Madeline's father served in the U.S. Navy as surface warfare officer and served on the USS New Orleans. He also served in the Navy Reserves and was deployed to Iraq as an individual ready reservist.
Rockwell Collins Scholarship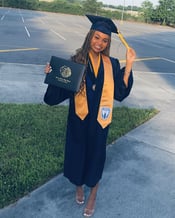 Aliyah Webster is an honors graduate of the Ocean Lakes High School Mathematics and Science Academy in Virginia Beach, Virginia. In high school, she held multiple leadership positions, some of which include junior and senior class vice president, Spanish Honor Society secretary and the Ocean Lakes Royalty Step Team captain. She also was a member of the National Honor Society and served as a staff member for multiple clubs and organizations dedicated to leadership and youth development, such as elementary and middle school leadership workshops, Envision Lead Grow and Beach Girls Rock empowerment group. In the midst of the COVID-19 pandemic and the cancellation of in-person graduation ceremonies across the world, Aliyah was selected as one of the winners of Sen. Tim Kaine's "Everybody's the Graduation Speaker" contest in which she had the opportunity to uplift her fellow members of the class of 2020. Her father is a retired senior chief petty officer that served 26 years in the U.S. Navy. In the fall, Aliyah will be attending Spelman College in Atlanta, as a biochemistry major with hopes of entering the biotechnology field in the future.
United Armed Forces Association Scholarship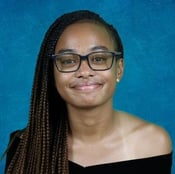 Leilani Gani Stone graduated from Kea'au High School in Kea'au, Hawaii, as the valedictorian with academic honors, STEM honors and a GPA of 4.13. She participated in various clubs including cross country, track and field, swim/dive team, STEM club, Science Olympiad Club and others. Leilani will attend the University of Hawaii at Hilo this fall, majoring in biology and minoring in physical science. She will also run cross country for the university team. Her father, Garnett Richard Stone, served in the U.S. Navy for 20 years.
Wesley C. Cameron Scholarship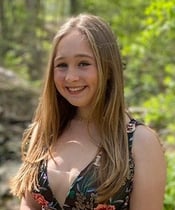 Celia Vergara is a graduate of St. Paul's School in Concord, New Hampshire, where she was a writing tutor, theater captain and prefect in her dormitory. She was awarded the school's Theatre Award for her contributions to the company. She lives with her family in Italy, where her father works for a Forward Deployed Regional Maintenance Center. This fall, she plans to attend Duke University and study economics and neuroscience.
Alaska Sea Services Scholarship
Carson Langenbacher is the son of Erik Langenbacher, a retired U.S. Coast Guard captain. In high school, he participated in Air Force JROTC, Civil Air Patrol, varsity track and field, varsity cross country and graduated second in his class. He is currently attending Georgia Institute of Technology as a mechanical engineering major.
Alaska Sea Services Scholarship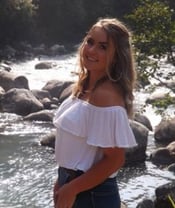 Isabella Brown was born and raised in Alaska and is now a senior at Colony High School. After graduation, her first goal is to get a bachelor's degree in health sciences with a minor in psychology. She will be attending Boise State University in Boise, Idaho, and plans to start classes in the vall of 2020. Some of her achievements include honor roll all four years of high school, a total of six varsity letters for playing soccer and volleyball, taking seven Advanced Placement classes in addition to standard curriculum, and volunteering in her community. She also works up to 32 hours a week to help pay for her college education. After completing the bachelor's degree, she plans to apply to Stanford Medical School along with other medical schools in the country so she can continue pursuing her dream of becoming a physician. After graduating medical school, Isabella plans to return to Alaska and provide medical services to people in need, including our veterans. Her father served as a Marine and is forever grateful to him for instilling the values of patriotism and integrity into her.
Congratulations to these excellent students from sea service families. We wish them and all our former winners the best for their continued education.