By Scott Achelpohl
Deputy Editor, Seapower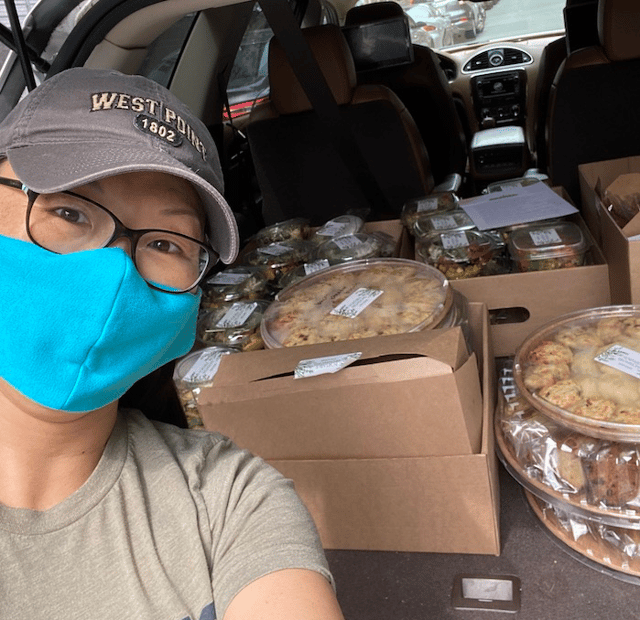 The New York Council's volunteer delivery partner, Nancy Preston, CEO of Milk Money Kitchens, with meals bound for the command center of the hospital ship USNS Comfort, which departed New York on April 30 after spending a month as a relief medical facility for New York-area patients, both with COVID-19 and other ailments and injuries.
The New York Council continued its efforts throughout April, not only to support the visiting hospital ship USNS Comfort but also in other places in the New York metropolitan area that needed aid during the COVID-19 pandemic.

The council continued its partnership with Milk Money Kitchens to pack and deliver meals — lunch three times per week — to the USNS Comfort's command center until the hospital ship departed New York on April 30 for its homeport of Norfolk, Virginia.

The New York Council also had cases of alcohol-based disinfectant delivered to U.S. Coast Guard Sector New York on Staten Island.

The council went live with a soft launch of www.takecomfortnewyork.org, a resource portal for local military members, families and veterans that the council will host and manage on behalf of a task force of New York-centered military and veterans support organizations. Through the portal, the council also will gather submissions for other organizations.

Council members also created two thank-you videos for the crew of the Comfort and hope to have a compilation video of all its COVID-19 relief work completed soon.

It also reached out to military-run field hospitals, the New York City Department of Veterans Services and local VA facilities to assess needs.

The council also shared updates on citywide recognition of the sea services by helping to promote the #AmericaStrong Blue Angels-Thunderbirds flyover of Manhattan and the city's #HeroesShineBright lighting of the famed Empire State Building.