By Scott Achelpohl
Deputy Editor, Seapower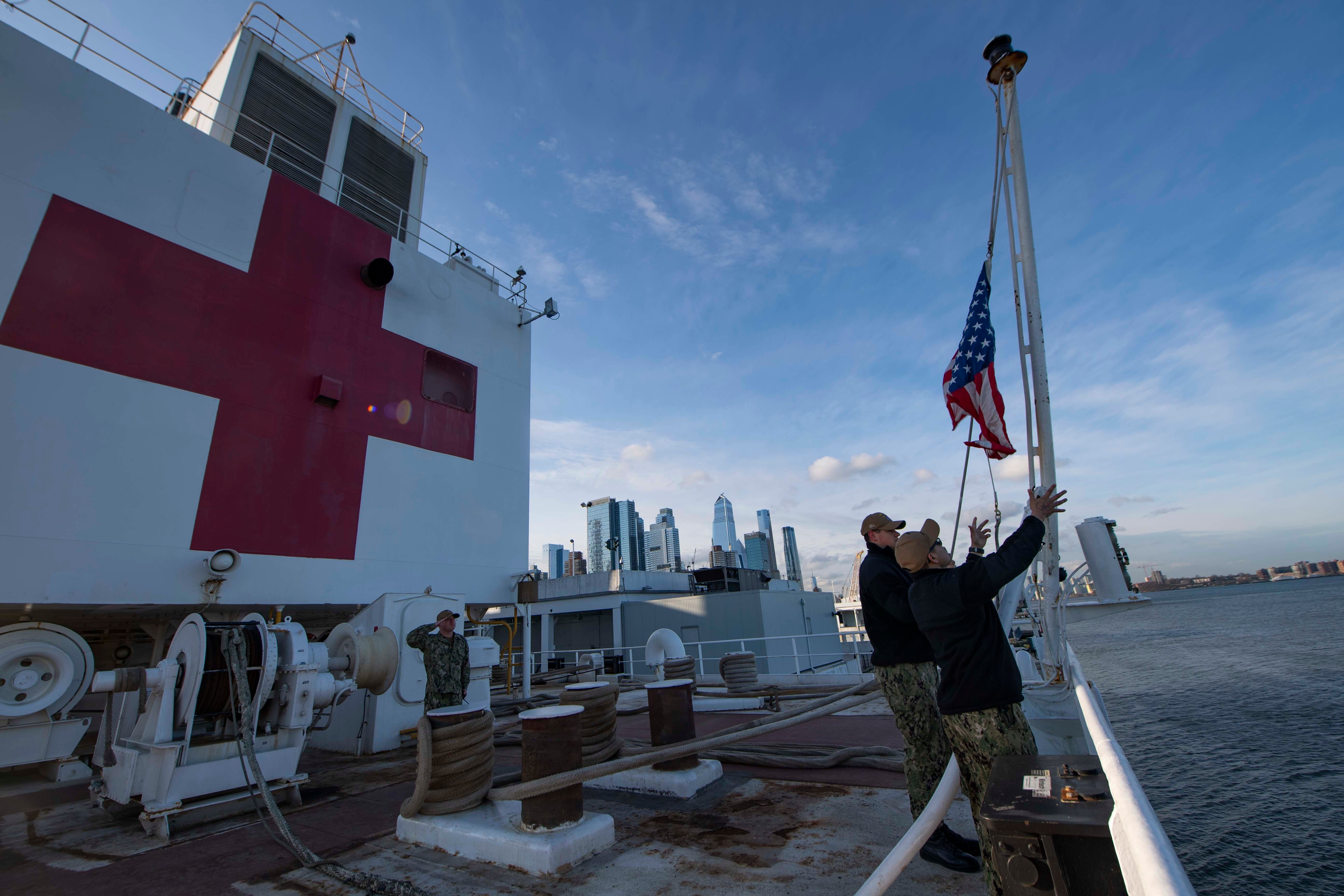 Sailors participate in a morning colors ceremony aboard the hospital ship USNS Comfort while the ship is moored in New York City to support the nation's COVID-19 pandemic response efforts.
Support efforts for the medical staff and crew of the USNS Comfort are just getting going, since the Military Sealift Command hospital ship only recently docked in New York City, but the New York Council has already drawn some notable monetary and other support for the ship, its crew and medical staff.

Access to the ship, staff and crew is restricted, but the council was working with the USO to support the onshore contingent of U.S. Navy and Marine Corps personnel with a food drop three days a week (Tuesday, Thursdays and Saturdays) until about the third week in April and perhaps beyond. The council also is working on video greetings from New York City entertainers.

Another effort, arranged with Milk Money Kitchens, provided meals for the Comfort at cost, said Jessica L.M. Hitchen, executive director of the New York Council.

And money to support the hospital ship has already started to flow, said Frank Russo, president of the council. "We've taken the approach that you tell us what you need," Russo said.

On April 3, the Richmond (Virginia) Council of Navy League donated $1,000 to New York's efforts. And later that week, Mastercard pledged another $10,000. And more money donations are likely to come, Russo said. "I think this national emergency represents a great opportunity for Navy League local councils to step up and help in their communities," he added.

Elsewhere, a Brooklyn vodka distillery switched to producing alcohol-based disinfectant and is donating it to U.S. Coast Guard watch standers to disinfect their equipment during each watch, Hitchen said, with hand sanitizer being in short supply.

The New York Council also reached out to the Army and National Guard to see if the council can direct some support elsewhere, either in the city or in New York state, which has been the U.S. epicenter of the COVID-19 pandemic.

The New York Council is also supporting the field hospital treating patients at the Javits convention center in the city.

In conjunction with Slices for Soldiers, the council on April 10 helped provide 875 pizzas from Angelo's Pizza and 40 cases of soft drinks from New York Beverage Wholesalers to soldiers stationed at Javits, with transportation provided by New York Shades and Blinds.