By Scott Achelpohl
Deputy Editor, Seapower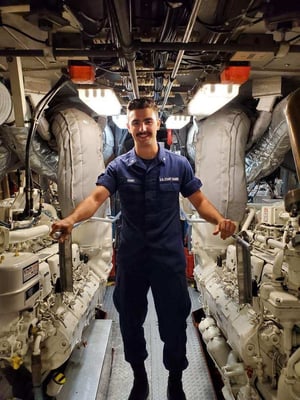 The COVID-19 pandemic affected but did not prevent the Corona del Mar, California-based U.S. Coast Guard Cutter Narwhal and the Newport Beach Council of the Navy League from carrying out a Sailor of the Year presentation on July 9.

The event was staged in hybrid form, with crew members and others wearing masks and remaining socially distant on the pier alongside the Narwhal. Navy League members joined from their homes via Zoom video conference.
Petty Officer 3rd Class Thomas Kenny, a machinery technician, stood at attention as the commendation was read, naming him as Sailor of the Year for the first half of 2020.
Kenny was credited for being "critical" to the Narwhal in several areas and assignments. Notably, Kenny has been liaising with contractors during the ship's 37-day drydock, weatherproofing the vessel to prevent electronic and engineering damage, quickly dealing with a potentially dangerous toxic gas-leak from a ruptured air conditioning line and spending 40 man-hours cleaning the Narwhal's propellers that increased the ship's maximum speed during a recent at-sea operation. Also, because COVID-19 caused the unit's culinary specialist to remain home for health and safety concerns, Kenny became the primary food purchaser for the Narwhal.
The commendation concluded by honoring Kenny for his dedication, hard work, willingness and positive attitude in taking on extra duties throughout the challenges of drydock and the COVID-19 pandemic.
To cap off the awards ceremony, Narwhal's commanding officer, Lt. Caroline Miller, and Newport Council President Bert Ohlig presented the council's unique boatswain pipe encased in a personally engraved case and a check to Kenny, who has been a Coast Guardsman just short of three years.
Following the presentation, Miller conducted a virtual tour of the Narwhal for those who had participated in the awards presentation on Zoom.
Sponsored by the Newport Beach Council and homeported in Corona del Mar since 2001, Narwhal's missions include search and rescue, drug interdiction, and enforcement of fishery laws and statutes.