By Navy League National President Bill Stevenson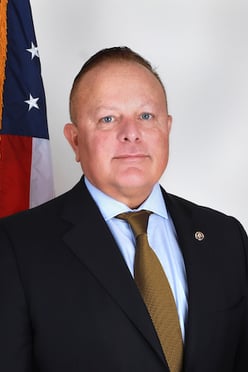 This is blog post appears in the September issue of Seapower magazine, the official magazine of the Navy League of the United States.
In his first interview as the newly confirmed chief of naval operations, Adm. Mike Gilday said, "I am interested with a sense of urgency in closing gaps that we have to either keep us in a position of advantage against the Chinese or to close gaps quickly where we can in order to put ourselves in a better position against them."
Concerns about the security of maritime commerce have grown exponentially in recent years. Every day in the news, we are seeing power plays by nations seeking future dominance by flexing their muscle at sea.
Especially throughout the western Pacific Ocean and Arctic, we have near-daily proof that the security climate in these areas are changing. We can plainly see from the 2018 National Defense Strategy that our sea services are in need of vigorous budgets and unswerving congressional support that will assure U.S. maritime strength and cohesion with our allies and partners around the world.
It's the mission of the Navy League to provide the support our sea services need to ensure they are a powerful deterrence and ready to fight when necessary. Our advocacy and grassroots campaigns are essential to this continued dominance, and our influence over the past decade has been unquestionable.
When the Navy needed more funding for ships, our team of Navy League volunteers lobbied successfully to assist in securing the 355-ship requirement. When the U.S. Coast Guard needed disaster funds after a challenging hurricane season and when they needed an upgraded polar security cutter fleet to maintain Arctic domination, our concerns were heard. We were instrumental in helping to create a National Sea-Based Strategic Deterrent Fund, of which the Navy is now able to start construction of a Columbia-class submarine that will be put to sea by 2027.
We are continuing our important work in creating safe and open seas by providing the voice our sea services need to maintain their readiness. You can continue to lend our weight to our important campaigns by visiting our Voice to Congress campaign site, www.navyleague.quorum.us.