Friday, April 24, 2020
By Luke Lorenz
Manager of Government Affairs
Navy League of the United States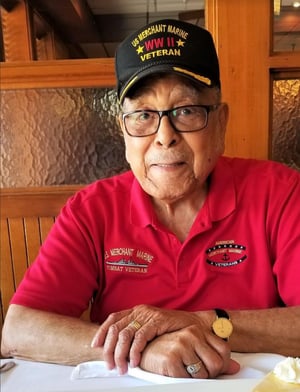 This is part of an ongoing series, where we look at the careers of individuals in the U.S.-flag Merchant Marine.
A testament to the critical humanitarian operations of the Merchant Marine, Charles Mills' first voyage took him to the West Indies where he delivered vital food supplies to a suffering population. This 16-year-old boy who had been attending high school only a few weeks prior, was now a hero, traversing the rough seas and saving lives. This is the life of a Merchant Marine, and it would become a lifelong calling for this self-described "born seaman."

Raised in Galveston Texas, Mills always had a strong work ethic. During the Great Depression he would find jobs at the local grocery store, butcher shop and bakery. But fate came calling one day when his cousin, already a seafaring Merchant Marine, returned home from sea and convinced Charles to sign up. After promising his high school principal that he would complete his final semester upon his return (which he later did) and completing his mariner training, Mills set off for the seas and a lifetime of adventure. His first voyage would be a mission of charity, but beyond the horizon a war was raging and it was only a matter of time before America would be pulled into the fire.

As World War II exploded across the oceans, Mills and his crewmates set sail for India. Aboard their ship was ammunition, cars, train components and other military supplies. Like most Merchant Mariners at the time, Mills became a critical asset to the war effort. Guiding the ship and its vital cargo through treacherous waterways, they would be forced to change course and arrive in the Persian Gulf, finally delivering their supplies in Iraq with the help of Indian longshoreman (a truly international effort). The U.S.-flag ships were a favorite target for enemy attacks, and changes to ship routes and port of destination became necessary for the safe delivery of military supplies.

Mills speaks passionately about the role of the Merchant Marine in wartime. When the military needs supplies, "we are the suppliers." During the war, the Merchant Marine would deliver over 4,800 tons of supplies every hour. Thousands were killed, injured or taken prisoner. They faced the same dangers as the other armed services, but, like his fellow Merchant Mariners, Mills would not receive the recognition he deserved until quite recently.

Still, it is clear that Mills is not concerned about his personal glory. He remembers his shipmates and the mission of the Merchant Marine.
"On a ship, every man has to look out for the next man," says Mills. He has that same attitude today as he commends the work of his fellow mariners. "The average American is not aware that the United States is a maritime country. We trade with other countries. We need U.S. ships to do that."
And we need more Merchant Mariners like Charles Mills.

Charles would go on to be elected field patrolman of the National Maritime Union working in New York and Baltimore before moving back to Houston with his family. There, he worked as the director of the gulf area out of the Houston office until he retired.