Wednesday, April 15, 2020
By Luke Lorenz
Manager of Government Affairs
Navy League of the United States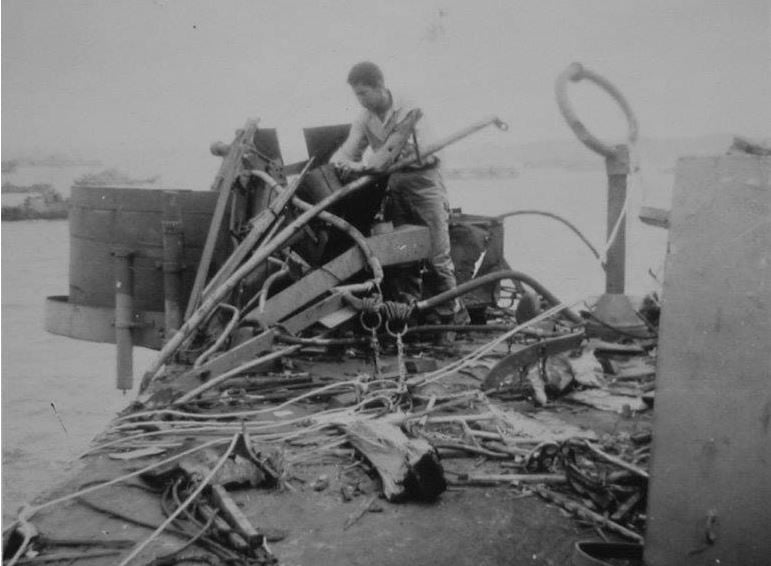 An image of the Marianne Livermore, the ship Leonard Blake was on when hit by Japanese forces.
This is part of an ongoing series, where we look at the careers of individuals in the U.S.-flag Merchant Marine.
While we are quick to recognize the heroic service our World War II veterans provided nearly a century ago, we often forget that many of them continued to carry injuries and mental trauma ever since, even up to the present day. Such is the story of Leonard Blake, who experienced severe injury and PTSD. Blake's difficult experience was compounded by being a Merchant Mariner, instead of a more widely acknowledged branch of service member.

Born Leonard Row, this heroic Mariner's entire life and even his identity would change in an instant one fateful day in Okinawa Harbor, Japan. As he rested in his bunk aboard the Marianne Livermore, a Japanese Kamikaze dive-bombed the ship and collided with maximum force. Leonard was thrown through an escape panel with severe injuries to his legs and feet. The faces of shipmates who would not emerge from the flaming wreckage still haunt him to this day.

Surviving the attack, Leonard was brought to a naval hospital where he would learn that his occupation as a Merchant Mariner was viewed as a cowardly escape from real duty. "I have no sympathy for these Merchant Marines," said one doctor. "They're just a bunch of draft dodgers." Apparently, this doctor was unaware that Leonard had joined up to serve his country at fifteen, before he was even eligible to be drafted.

Leonard was not allowed to stay at the naval hospital since he was not technically a member of the armed services. He would end up at a public hospital in California. Still a child, he was adopted by the parents of another crew member who had died on the Marianne Livermore named Bob Blake. And so, Leonard Row became Leonard Blake, his name a daily tribute to a fallen comrade and the family that welcomed him as one of their own.

I wish I could say that this story happily ended there, but unfortunately Blake would spend the rest of his life fighting for the health care, compensation and acknowledgement that come standard among the other branches of the armed services. VA hospitals would continue to treat him with the same dismissive attitude as the Navy doctors did years before. He would receive a fraction of the disability pay that he may have received had he been in the Navy or the Marines. He received a Merchant Mariner Medal but is ineligible for a Purple Heart. These are issues that should not be forgotten.

Still, Blake still thinks back fondly to his days sailing the oceans, climbing the rigging and delivering critical supplies to American forces around the world. His joyful memories of those days are crystal clear when he speaks of his service. Perhaps somewhere out there, on a ship floating carelessly on calm waters, Blake's shipmates stand on deck under a bright blue sky waiting for their friend to return to them.