Friday, May 1, 2020
By Luke Lorenz
Manager of Government Affairs
Navy League of the United States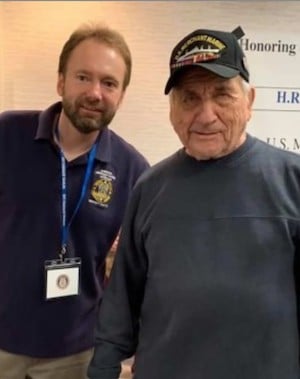 This is part of an ongoing series, where we look at the careers of individuals in the U.S.-flag Merchant Marine.
A bit of a natural born rebel, Oliver Lua found his calling in the Merchant Marine. In a matter of months, he would go from cutting class to braving Japanese attacks in the South Pacific. While his journey seems like a strange series of coincidences, Lua feels that his service in the Merchant Marine was more akin to destiny. "It was like I was supposed to do it."

Lua's disciplinary issues in school were less about inability to follow the rules than they were about a young man eager to get out into the world. He remembers hearing of how ships were being sunk by enemy forces and he wanted to do something about it. So intense was his eagerness that he hitchhiked his way to San Francisco to attend the school for Merchant Marines. As though by divine providence, the vehicle that picked him up was full of Merchant Mariners on their way to get their papers.

With the help of an altered birth certificate and doctor's letter procured by his sister and father, Oliver completed his Merchant Marine training and received his first assignment aboard the William S. Ladd. He was only 15 years old. The ship's first mate didn't know what to make of the 5-foot 6-inch-tall, 117-pound boy standing in front of him. He asked if Oliver knew how to tie a knot. When Oliver proved he could, the first mate shouted, "Stow your gear!"

The William S. Ladd sailed off to the Pacific theater, carrying 138 tons of artillery, 800 drums of gasoline and 52 amphibious tanks. The tanks were dropped off to a unit preparing to storm a Japanese-held island, and the Ladd sailed on to the Philippines. Prior to reaching its destination, one of Oliver's crewmembers died tragically after falling into the water and breaking his neck. Oliver tried to save him but was unable to do so. Oliver, a young boy only a few weeks away from home, was called upon to sign the death certificate for his crewmate. To this day, Oliver laments that the man had a wife and family that he would never see again.

Upon arriving in the Philippines, the convoy of ships accompanying the Ladd would come under regular attack from Japanese forces. Oliver watched as ships were pounded by torpedoes and kamikazes. The Ladd courageously fought with all their might, shooting down four enemy planes before an enemy fighter collided directly with the Ladd's hold containing the fuel and artillery. There was little to be saved on the exploding vessel, so the abandon ship order was given. Miraculously, Oliver and his shipmates would escape the vessel with injuries but no loss of life.

Oliver returned to San Francisco in January of 1945 and prepared for his next assignment, which would mirror his prior voyage so closely that he actually passed the wreckage of the Ladd still floating outside of the Leyte port in the Philippines. This trip would not have the same dangers, as the Japanese were now on the precipice of defeat. When Oliver returned home after this trip, he would learn of that the atomic bomb had been dropped and that Japanese surrender was imminent.

After the war, Oliver joined the Army and served in the 11th Airborne in Hokkaido, Japan. Receiving his Merchant Marine ribbons in the mail, he pinned them on his uniform prior to battalion inspection. At first stunned and outraged at the strange ribbons that seemed to violate uniform regulations, his superiors learned of his experiences in the Merchant Marine and told him to "wear those ribbons proudly" -- all except his 1st sergeant, who would remain irritated by the ribbons and by this rebellious Merchant Mariner for the rest of his time in Japan. But that's Oliver Lua, a rebel with a good cause.