The Navy League of the United States created the President's Circle in 2000 to recognize and highlight the importance of charitable contributions to our initiatives on behalf of our nation's sea services. It is a select giving society that recognizes steadfast supporters who make an annual gift of $1,000 or more to any Navy League-affiliated programs, includes gifts to the Navy League Foundation and Naval STEM Institute.
With the roll out of our newly reinvigorated President's Circle, we will be featuring current members and the reasons why they chose to "Stand in the Circle" this year. Many have been members of the President's Circle for multiple years. We would like to recognize them for their financial commitment, leadership and support to our mission.
President's Circle Spotlight: Jonathan Kaskin
Member of the President's Circle Since 2014
Why did you donate to Navy League of the United States at the President's Circle level?
Of all the organizations that I participate in, I believe the Navy League is the most effective in meeting a mission that aligns with my values and interests.
What inspired your gift?
I believe it is incumbent for all board members and officers to support the Navy League with as much time and financial support as circumstances allow, which includes "Standing in the Circle."
Why you are drawn to supporting our sea services?
Having served four years on active duty as a regular Navy officer, 26 as a Navy Reservist and 33 years as a Navy civil servant, all involved with supporting military sealift provided by the Navy Military Sealift Command and the Maritime Administration, I c
ould not just sever my relationship with the Navy and Merchant Marine upon retirement, and the Navy League was a means for me to continue advocating for them as well as the [Coast Guard] and [Marine Corps].
What does the Navy League mission mean to you?
Although the Navy League missions for sea service advocacy and education, youth support as well as local council sea service unit support are all worthy, I was most attracted to legislative affairs and have committed much of my time and effort supporting the Navy League advocacy mission.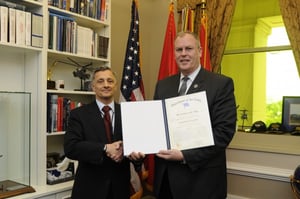 If you could solve one problem for the sea services today, what would it be?
Ensure that the sea services receive the resources they need to perform their missions in a fiscally constrained environment, that will become even more constrained post the COVID-19 pandemic.
Why should others consider giving to Navy League?
While I believe all board members and officers are especially obligated to support the Navy League as much as they are financially able to do so, I believe that anyone who is committed to the Navy League should want to support its mission by giving their time and money to the best of their ability.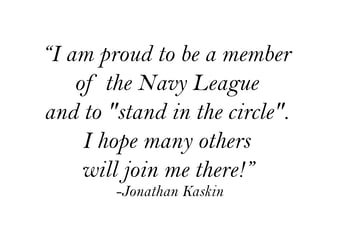 If you are interested in donating to the Navy League in any capacity, please do so by clicking the button below.